Short description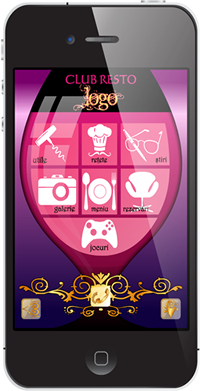 The explosive growth in number of smartphones and tablets has made mobility a reality. For this, we have created
RESTO CLUB,
a product designed for restaurants and clubs, aimed directly at online advertising.
This application is personalized according to your desire (menu, logo, maps, photos, recipes, special offers, etc.) and is available
free
of charge to any customer locations. It is easy to use for both parents and children. Once installed on your mobile device, the application will always be in the pocket of your customers.
Here, they will find information about:
the menu;
the map of the location (including table layouts);
contacts;
special offers.

In addition, through the application, customers can also benefit from:
the code of good table manners;
a rich photo gallery of your services;
a fun, educational game for children (an engaging activity that can be used in the waiting time at the table and which can help ease their parents);
a special recipe from you;
a through which you can attract and maintain customers